◀ Safes & Gun Safes Gun Cabinets It is important to keep your guns securely locked away at all times and if you own a gun you must follow strict Home Office requirements to store it safely and securely. All the gun cabinets installed by Banham meet with the strict Home Office requirements. Guns can be used by burglars or other criminals when they are attempting to carry out a crime so keep your guns securely locked away at all times. Your gun cabinets should be kept out of view too, so fix them to a wall away from windows. It is important you also keep your guns locked away when children are around and always keep your gun cabinets out of the view of children if possible. Gun Cabinets specifications: Strong 2mm thick fully welded steel construction (including welded top) Full length anti-jemmy bar Full length anti-lever flange and door interlock Recessed door with multiple folds on door and door housing High density foam divider and floor mat Grey textured powder coat finish 14mm fixing holes in back and base Superior strength 7 lever safe deadlocks Extra door reinforcement SOME IMPORTANT INFORMATION ABOUT GUN CABINETS Home Office guidance on gun security can be obtained from the local Police or the Firearms Section, UPPU, Home Office, 50 Queen Anne's Gate, London SW1H 9AT. Gun cabinets must be fixed to a brick or concrete wall using a minimum of 4 x 10mm expanding masonry (rawl) bolts. They must be out of sight of casual visitors preferably in a room without direct access (i.e. door or window) to the exterior. They should not be sited in a garage or external building. They should not be marked to show their contents or key numbers. Avoid locating them near central heating ducts or chimney stacks as materials, particularly ammunition can be affected by heat or fire. Ammunition must be stored in a separate locked compartment. For advice on storage of smokeless or black powder (muzzle loading guns) consult an explosives officer. ◀ Back Pistol/Ammo/Accessory Safes Gun Safes (STD Range) Gun Safes (PLUS Range) Space Saver Gun Safes Extra Deep Gun Safes Groundsman £1,000 cash rating Game Keeper £1,000 cash rating Scout £2,000 cash rating Warden £10,000 cash rating Gun Cabinets £1,000 - £2,000 cash rating £10,000 - £20,000 jewellery rating

If you want to buy a gun safe in the UK Safe.co.uk offers the widest choice of gun safes available in the UK today. We specialise in fire arm security and supply gun safes for many uses. We sell ammunition safes, pistol safes, rifle safes and shotgun cabinets. If you need to buy a Gun Safe or Gun Cabinet urgently for a firearms inspection take a look at our low priced Buffalo River Gun Safes with Free Next Day Delivery. Our UK gun safes or rifle cabinets are manufactured to the British Standard BS 7558/92 and are approved by the Police. In accordance with Police guidelines for gun safes you must keep ammo locked in a separate compartment and many of our gun safes include this feature as they are built with internal locking tops.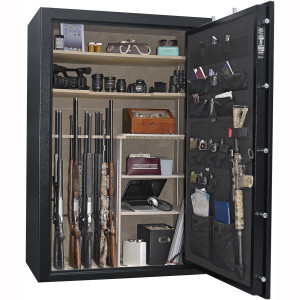 I had a thirty year old safe made by a company that had gone out of business, and lock was getting hard to work. Started looking for a new safe and found a floor model on sale at a substantial savings. It's bigger, has a digital lock, and cannon's support has been great! They helped me secure it to the floor, reset the combination, how to lubricate the locking bolts. Just a great experience.




Our competitively priced gun cabinets, shotgun cabinets and gun safes meet the necessary British standards for police approval. Our gun cabinets provide extremely secure storage of your firearms without breaking the bank. They come in different shapes and sizes, catering for the single-gun holder as well collectors.




Add to Cart and Begin Checkout to See Price. Why? Some manufacturers will not allow us to show prices on our website that fall below a set number. In order to see the price of this item, you must add it to your Shopping Cart and then press Checkout – however, you do not need to complete the purchase and can remove this item from your cart at any time.

By submitting your bid, you'll be contractually committing to buy this item from the seller if you are the winning bidder. By submitting your bid, you're committing to buy this item from the seller if you're the winning bidder. You've read and agree to the Global Shipping Programme terms and conditions - opens in a new window or tab. Import charges previously quoted are subject to change if you increase you maximum bid amount. By clicking Confirm, you commit to buy this item from the seller if you are the winning bidder. By clicking Confirm, you're committing to buy this item from the seller if you're the winning bidder and have read and agree to the Global Shipping Programme terms and conditions - opens in a new window or tab. Import charges previously quoted are subject to change if you increase your maximum bid amount.

Our website uses cookies to allow users to shop and place orders. If you consent to the use of cookies, continue using the site, or find out more. X

Safes & Gun Safes Banham are the leading supplier and installer of secure storage cabinets and safes London has to offer. All our safes are suitable for protecting jewellery and cash in both residential and commercial properties, with a range of products available to suit different needs and security levels. We offer a number of different specifications designed to meet your requirements, with cash values to up £250,000 and jewellery ratings up to £2.5million   Our range specialist range includes: Freestanding safes CD & computer media and data safes Fire safes Large gun safes and gun cabinets Wall safes – 2-4 brick units Luxury safes – with bespoke exterior and interior finishes – gold-plating, suede, leather etc We offer a bespoke, confidential on-site survey to meet all your requirements and can supply and install insurance approved safes to comply with insurance requirements. Browse our full range, locking types and services online. Gun Safes We supply a range of different gun safes, cabinets and ammunition cabinets, all of which allow you to comply with Home Office guidance on gun security. We provide a range of specially-designed cabinets, from standard single-gun through to extra deep or large high security safes. Click through to our gun cabinets section to view further detailed information on securing guns, ideal areas to store cabinets, and the safest ways to fix cabinets to walls. Find out more about our safes at a Banham showroom Visit one of our showrooms to view our range of safes and security cabinets with industry professionals. Earlsfield Kensington Golders Green Guildford Maidenhead Worthing Freestanding Safes Data Safe Luxury Safes Fire Resistant Safes Wall Safes Gun Cabinets

Browning® Vault Door Not Yet Rated Build a high level of security into a special room Secure storage of guns, documents, heirlooms, art and more Fits a variety of wall types and installation requirements 83" x 36" minimum rough door opening 1/2"-dia. steel J-bolt anchors included Door frame L-flange fits wall with 5.5" minimum thickness Item: IK-232431

I bought this on sale on Black Friday but would buy it at normal price for the same purpose. I will lock it under my truck's seat with the included cable and use it to store my CCW when I need to. It won't provide the security of a higher quality safe but will keep tiny hands out of harms way, deter time sensitive thievery, and provide some protection to what ever you put inside. A little custom foam (like Pelican's Pick'n Pluck) and it'll be perfect.

Whether you're in the market for personal safes or gun safes, there are a wide variety of options to fit every last valuable, and then some. Amply sized gun lockers are designed to fit multiple rifles, pistols and need-to-have accessories like scopes and ammo and keep them protected until your next hunting or shooting excursion. Personal safes outfitted with adjustable shelves and pockets help organize important files and valuables.

Why Might I Need an Extra Deep Gun Cabinet? Extra deep gun cabinets are useful for storing guns with the scopes attached, for the user's convenience. These cabinets feature superior safe locks, including strong hinges and anti- lever flanges. They also feature foam dividers and floor mats for the secure storage of your guns. The depth of extra deep cabinets is designed for maximum storage capacity and are 100% guaranteed to be police acceptable. Extra deep gun cabinets vary in size and can generally hold up to 9 guns securely, whilst ensuring that the scopes of your gun(s) remain undamaged.

How Can I Obtain a Shotgun License? Shotgun Licenses can be obtained from police stations. The process involves the applicant filling in a form, paying a fee and enclosing 4 passport-sized photographs. The police must be satisfied that applicants should be permitted to store and use a shotgun without posing any threat to public safety or to the peace of their surroundings. The police will check for previous convictions on the application form. Applicants should expect to be visited at home by a police officer who will discuss security arrangements. The application will then either be approved or rejected. The BS7558/92 Standard Explained The BS7558/02 Standard refers to the storing of all shotguns in a dwelling in the UK. Shotguns should be securely stored in a cabinet specifically designed for this purpose. The cabinet needs to be fixed securely to a structure and should be designed to thwart intruders or attacks on the cabinet by any persons who may visit the premises. The BS7558 standard was first introduced in 1992. How Can Gun Cabinets be Fixed or Attached? Gun cabinets are the preferred method for storing firearms. Ideally, the cabinet should be fixed to a brick wall or one that is constructed from reinforced concrete or concrete blocks. The room in which the cabinet and firearms are stored should not have access directly to the outside, but be an inner room. Gun cabinets should feature welded seams and lock mechanisms on the insides, containing 5 levers. Rifle cabinets should feature two locks, because of their height. Gun Capacity Explained Each individual gun cabinet is designed to hold a specific number of guns and this capacity can vary widely, according to your needs. If you are relatively new to the sport of shooting, a small gun cabinet may suffice for your hobby. However, if you are planning on expanding your gun collection, investing in a larger capacity gun cabinet will probably suit you better. Cabinets range from single or double gun capacities with a two key lock, to multi storage, bolted cabinets. Often, multi-berth gun cabinets do not vary in size that much from their single counterparts. Lock Types Explained Locks for gun cabinets are an essential component, to prevent the vital security of your guns being compromised in any way. For smaller gun cabinets, a single key lock is sufficient and will provide adequate security for your valuable collection. Vault locking mechanisms provide more security for peace of mind, with lever locks and 5 point locking systems. You may also want to consider a combination of electronic locks for your gun cabinet. Many buyers prefer electronic locks as they are more convenient to use, open quickly and their combination can be changed easily by the owner. What are Break Down Gun Cabinets? Break Down Gun Cabinets are smaller cabinets which can be used when space is limited in your home. These cabinets have a reduced height size, as they are designed to accommodate shotguns that have been broken down into two components. The cabinets will feature foam dividers for easy storage of the guns' components. Break Down cabinets range in their flexibility, from the storage of between 1 and several shotguns and they feature the same security measures as full sized cabinets. Break down cabinets should conform to the same British safety standards as larger cabinets. Why Might I Need an Extra Deep Gun Cabinet? Extra deep gun cabinets are useful for storing guns with the scopes attached, for the user's convenience. These cabinets feature superior safe locks, including strong hinges and anti- lever flanges. They also feature foam dividers and floor mats for the secure storage of your guns. The depth of extra deep cabinets is designed for maximum storage capacity and are 100% guaranteed to be police acceptable. Extra deep gun cabinets vary in size and can generally hold up to 9 guns securely, whilst ensuring that the scopes of your gun(s) remain undamaged.

Browning® Vault Door Not Yet Rated Build a high level of security into a special room Secure storage of guns, documents, heirlooms, art and more Fits a variety of wall types and installation requirements 83" x 36" minimum rough door opening 1/2"-dia. steel J-bolt anchors included Door frame L-flange fits wall with 5.5" minimum thickness Item: IK-232431 $3,279.99

Cabinets range from single or double gun capacities with a two key lock, to multi storage, bolted cabinets. Often, multi-berth gun cabinets do not vary in size that much from their single counterparts.

We offer a bespoke, confidential on-site survey to meet all your requirements and can supply and install insurance approved safes to comply with insurance requirements. Browse our full range, locking types and services online.

You can't put a price on safety. That's why John Deere security safes are truly priceless. Each has a lifetime repair or replacement warranty against break-in, attempted break-in, and fire damage. And they're beautiful enough to display anywhere in your home.Watch home fire test videoJohn Deere vs. Winchester safe

This amount includes applicable customs duties, taxes, brokerage and other fees. This amount is subject to change until you make payment. For additional information, see the Global Shipping Programme terms and conditions- opens in a new window or tab This amount includes applicable customs duties, taxes, brokerage and other fees. This amount is subject to change until you make payment. If you reside in an EU member state besides UK, import VAT on this purchase is not recoverable. For additional information, see the Global Shipping Programme terms and conditions- opens in a new window or tab

Lock Types Explained Locks for gun cabinets are an essential component, to prevent the vital security of your guns being compromised in any way. For smaller gun cabinets, a single key lock is sufficient and will provide adequate security for your valuable collection. Vault locking mechanisms provide more security for peace of mind, with lever locks and 5 point locking systems. You may also want to consider a combination of electronic locks for your gun cabinet. Many buyers prefer electronic locks as they are more convenient to use, open quickly and their combination can be changed easily by the owner.

I bought this safe 3 weeks ago, it was easy to program and has opened on the first try every time I tried, you just touch it and give it 1/2 a second to wake the computer up. love the biometrics, and the backup keypad and keyed lock.

In addition to our large stock of new safes, our online shop also lists Reconditioned Safes For Shotguns. We offer a wide range of safes. You can also shop with us for key tubes, deposit safes and safe doors.

You should ensure that you keep the keys to the cabinet in a place where they can't be found easily. Remember that YOU are responsible for the security of the guns, and letting people who do not have a certificate (including family members) know where the keys are, is NOT taking reasonable precautions to ensure that they don't have access to the guns.

To see if ShippingPass is right for you, try a 30-day free trial. Also, with ShippingPass, there is no need to worry about commitment. If you decide you want to discontinue the service, you can cancel your subscription at any time. No matter what your shipping needs, Walmart's got you covered. Sign up for ShippingPass so you can shop more, save money and live better.

All our safes are suitable for protecting jewellery and cash in both residential and commercial properties, with a range of products available to suit different needs and security levels. We offer a number of different specifications designed to meet your requirements, with cash values to up £250,000 and jewellery ratings up to £2.5million

If you are relatively new to the sport of shooting, a small gun cabinet may suffice for your hobby. However, if you are planning on expanding your gun collection, investing in a larger capacity gun cabinet will probably suit you better.

ShippingPassWant to get your items fast without the pricey shipping fees? With ShippingPass from Walmart, you can enjoy Every Day Low Prices with the convenience of fast, FREE shipping.Whether you need a gift in a pinch or you're simply running low on household essentials, a ShippingPass subscription gets you the things you need without hurting your pocket.When you purchase ShippingPass you don't have to worry about minimum order requirements or shipping distance. No matter how small the order or how far it needs to go, ShippingPass provides unlimited nationwide shipping. If you need to return or exchange an item you can send it back at no cost or take it to your neighborhood store.To see if ShippingPass is right for you, try a 30-day free trial. Also, with ShippingPass, there is no need to worry about commitment. If you decide you want to discontinue the service, you can cancel your subscription at any time. No matter what your shipping needs, Walmart's got you covered. Sign up for ShippingPass so you can shop more, save money and live better.

She told MailOnline: 'Obviously, like most parents, we have ground rules for the kids when it comes to playing with the foam dart guns. But as our case proved, accidents do happen.